DB Garden Services aim to provide a complete tree management service to its clients.
Tree Planting – we can supply semi mature trees and shrubs or plant your own.
Our staff are all qualified tree surgeons and work is carried out to BS3998.
Contact us to discuss a free of charge no obligation quotation for any of the following services:
Tree felling/removal
Tree pruning
Dead wood removal
Crown Thinning
Crown Reduction
Reshaping
Pollarding
Stump Removal
Hedge Trimming
Hedge Reduction
Cable Bracing
Emergency Callouts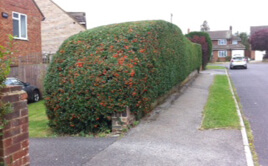 Logs & Woodchip delivered to your door!
Quality logs and woodchip delivered to your home in clean condition and at fair prices.
Please call 01372 453 333
Although tree stumps can be left in the ground after felling and covered with sprawling plants, such as herbaceous clematis, this can lead to problems with suckering where new shoots arise from the trunk and roots, Completely dead stumps won't form suckers but they can play host to root diseases such as honey fungus* and as such, aren't worth leaving in and taking the risk.
We have two machines which we can use to remove stumps to below ground level. Our equipment allows the removal of tree stumps with the minimum of ground disturbance and allows replaqnting or ground preparation for just about any purpose.
We have access through a minimum gap of 30". We can remove any size of stump from just a few inches up to the largest stump imaginable.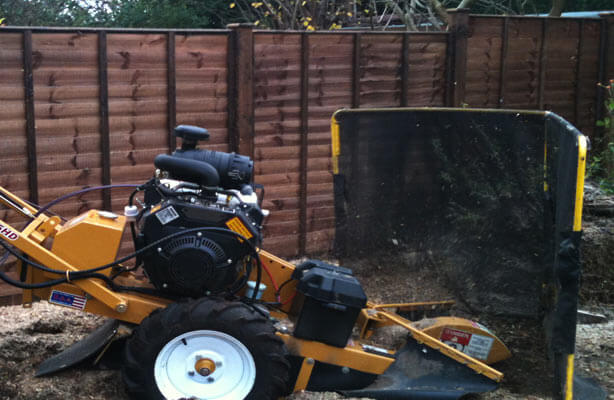 *Honey fungus (Amillaria species) is a parasitic fungus which shows as a yellow-brown to dark brown mushroom growth in the autumn. Other evidence of the presence of honey fungus is white/creamy coloured sheets or dark bootlace strands (rhizomorphs) beneath the bark. There will a distinct mushroom smell. The rhizomorphs can spread up to 30' and 25" below ground to neighbours trees and shrubs and may invade healthy roots. An infected stump should be ground out and the debris burnt. The hole should be filled with new topsoil and planted with annuals or herbaceous perennials and left for 18 months.